The
Stupendous
Mr.
Magichead

One hour birthday parties for ages 4-9
$295.00*
*plus travel .50 per mile round trip within 100 mi. of Worcester MA and .75 per mile beyond
508-450-7110

An
Accidentally
Funny
Magician
Full-time professional magician since 1986, children's shows-only specialist since 1997, Boston Massachusetts-based magician John Sullivan (as The Stupendous Mr. Magichead) has earned 100% of his income for the last 28 years traveling and performing magic! A children's comedy magician appearing and disappearing to rave reviews at over 7,000 boffo kid's shows to date, The Stupendous Mr. Magichead has achieved master status among family entertainers. With a wild & wacky magic show narrowly aimed at ages 4-9 combining high-energy, physical comedy, and fresh, original trickery, this children's magician continues to travel near and far bringing laughter and amazement to kids of all ages at schools, birthday parties, and family events.
Home Birthday Parties Preschools Elem. Schools Libraries Online reviews Applause Video Contact About Shows Worcester magician Fairs & Fests Blue & Gold Links Easter
"...did a great job, had the kids laughing the entire time! ...it was really fun."


"Slapstick Magic Act Big Hit..."


"He was incredible!"



Also scroll down and click on Filtered Reviews
"...amazed a huge crowd with his wild and wacky magic show..."


"...had the kids laughing loudly with his silly antics and physical comedy."


"OMG!!! Did the kids enjoy his antics."
Google Local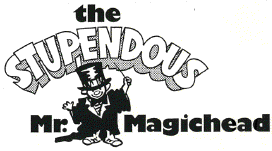 An Accidentally Funny Magician entertaining children ages 3-10 (and kids-at-heart of all ages) at birthday parties, schools and family events in MA, NH, RI, CT, VT and Maine
P.O. Box 1201 Worcester MA 01613 PH 508-450-7110
Copyright © 2011 [John Sullivan]. All rights reserved.
Revised: May 15, 2015