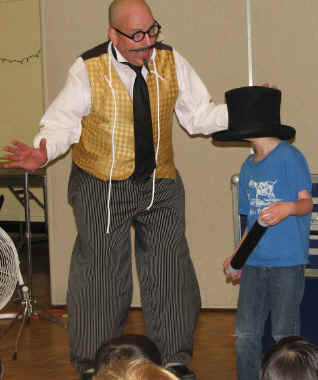 Hilarious, one-of-a-kind preschool entertainment
What you get: A 45-50 min. high-energy, interactive comedy-magic show aimed squarely at ages 4-6 featuring the appearance of a live rabbit. The show is followed by 5-10 min. bunny petting and photo opportunities. Among the highlights of this quickly-paced costume-character performance are the use of audience assistants on stage, lots of silliness and ludicrous predicaments, and loads of surprising magic that will mystify even the most sophisticated grown-ups. This performance is self-contained, can be set-up just about anywhere and does not require a great deal of space.
What you will see: Preschoolers sitting in one spot for 45-50 min. Everyone laughing at the bumbling magician in the wacky costume. Constant looks of amazement.
What you will hear: Squeals. Screams. Ooos. Aaa's. Whoa's. Non-stop laughter.
Why it's special: Hilarity. Surprises. Originality. Energy. Experience.
How Much? $295.00 plus $0.50 per mile round trip within 100 mi. of Worcester MA.
How this works: When you decide to book a show, (for 1st time customers) we email you an agreement, which you sign & return with a 50% deposit. Mr. Magichead will arrive on site 1 hr. prior to show time, and will begin load-in 25 min. before show time.
The Fine Print: The performer must be positioned in such a way as to prohibit backstage or on-stage views of the performance. Against a wall or kitty corner often works best, but in any event there must be a straight line-in-the-sand where everyone is on one side, with the performer on the other side. Outdoor shows can be staged (without the sun in the audience's eyes) on a flat & level surface. On sweltering days outdoor shoes must be held in a shaded area.
Photo courtesy of Sunshine Nursery School